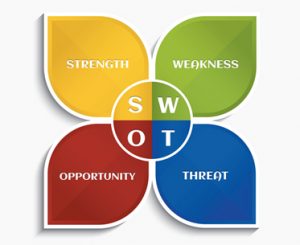 The Mink Company – SWOT Analysis
For many years, businesses have asked the question should I use a staffing agency to assist with full time and contract placements.  In an effort to help companies make an educated decision on this TMC has done a SWOT analysis.  What is a SWOT analysis?  It identifies strengths, weaknesses, opportunities, and threats to any business related question you might have.  It might not fit your business environment 100% but it will give you some additional information to make an informed decision whether or not to use TMC as your staffing agency.
Internal

Strengths

Weaknesses

1.       You will have access to a vast network of industry specific candidates.  TMC has thousands of job seekers already in our database for the AV, IT and broadcasting industries.

2.       You will save money.  The US Bureau of Labor & Statistics states the average cost of adding a new employee is $58,000.  This includes screening candidates, manager and employee back fill overtime.

3.       You will have a guaranteed hire.  TMC provides a 90-day guarantee on any new hire.

4.       You get to try before you buy.  Contract to hire is a TMC staffing option.  If the candidate is not a good fit, you can move on without risk.

5.       Your managers will have more time to focus on the day to day business instead of searching and pre-screening potential candidates.

1.       You will still need to review resumes and pre-screen candidates. You will still need to do some screening, but TMC will only send you candidates that we feel are qualified for the position.  Your time doing this will be very minimal.

2.       Your business will not need an internal recruiting team.  For some this may be difficult to adjust too.

External

Opportunities

Threats

1.       Have the ability to expand and constrict your labor force easily by using contract employees.

2.       Management will have more time to focus on business resulting in satisfied customers and a faster growth.

3.       Your business will have access to candidates that an internal recruiter would not have access too.

4.       Improvement of productivity from current employees.  TMC can help fill vacant positions quickly which will help reduce employee burnout by filling in for insufficient staff.

1.       You will rely on external sources to provide your new candidate funnel.  TMC will ensure that you have the candidates you need to fill your open positions.

 

SWOT Analysis Summary

Employers have difficulty finding qualified candidates to fill job openings. Many are quick to say there is a talent pool that lacks job skills, business knowledge, experience and formal qualifications. At the same time staffing agencies are sometimes avoided because companies believe cost to be a barrier. Frankly, this is the furthest from the truth. Employers should weigh the cost of lost opportunity by having a position unfilled, the cost of having a poor hire, and the endless and tiresome cost of searching for a candidate.  The advantages greatly out-weigh the weaknesses and threats.